Categories
Calendar Loading
Personal information in this site is protected by SSL.
T-shirt hemming service
In order to respond to requests regarding dress length,
UES will start a T-shirt hemming service for your perfect fit.
HEMMING UP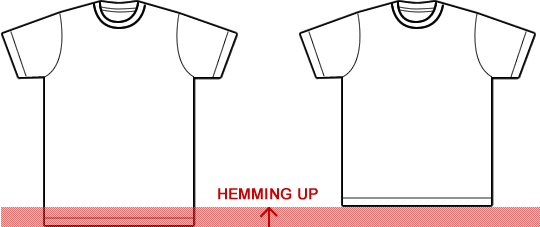 ABOUT THIS SERVICE
The bottom of the hem of the T-shirt sold at UES is roughly divided into the following three types. In the hemming service, all finishing is only with two needles.
Double needle type
Finishing of the hem repair service is performed by a sewing method using a double needle that has two line stitches on the front.
Hemming procedure
① Unwind the thread
(if necessary)
② Measured considering seam allowance
③ Cutting
④ Ironing the folded width
⑤ Sewing
⑥ Completion
PRICE LIST
For online reception
| | |
| --- | --- |
| Fee only for hemming (hemming over 5cm)-UES T-shirt | Additional charge if it is necessary to unwind the yarn(hemming under 4cm will require additional charge)-UES T-shirt |
| 500円 | +400円 |
※Please understand that hemming is only accepted when ordering before payment and other brands will not be accepted.
Also please refer to measuring method page.
NOTICE
Things to note
If you wish to have the hemming online, please contact us first. Give us a memo on your order or contact us through the contact page before making payment.
★ The additional hemming fee will be charged and you will receive a new invoice.
There are several types of hem sewing, UES hemming service will be finished with two needles.
Please understand, needle holes that have already been made may remain when unsealing the hem.
If the same color is not available for the hemming thread, a similar color will be used.
The yarn to be used is a slightly thicker yarn no.30 for casual. We mainly use cotton with emphasis on texture, but we may use polyester-mixed yarn to give priority to color matching.
Waffle T-shirts and reversible T-shirts cannot be used for T-shirt hemming.
Please note that we will not reattach the name tag and washing display. The tag will be removed by hemming.
Please understand that hemming is only accepted for new orders and before payment. Other brands will not be accepted.