分类
Calendar Loading
有关顾客的个人资料,以(Secure Sockets Layer )简称SSL受到保护。

Complete self-company sewing
and order-made production
"Extra Heavy Tote Bag"
The order reception has started
and we will be taking orders.
After receiving order each product would be
made carefully and polished.

You can enjoy the aging over time from
both of the combination of the 23oz thick denim and the leather.
Special specifications only for orders
Tote bag made with special 23oz thick selvage denim. Selvage was used on the inside mouth of the bag as an accent to the design. We are using a special sewing machine capable of sewing thick fabric. The yarn used for sewing is a thick thread equivalent to No. 00 to keep the strength to the thickness of the fabric. Leather is matched to the bottom part of the bag and on the handles where the most friction occurs to enhance wear and resistance.
Thick leather is used on the bottom for upgrading the strength.
Inside there is a pocket
with leather patch.
The bottom side is fixed by caulking considering designability and strength.
The same soft leather as the bottom covers the handle part.
On the inside mouth of the back handles, a covenient double ring is installed.
Selvage is used for the looking portion.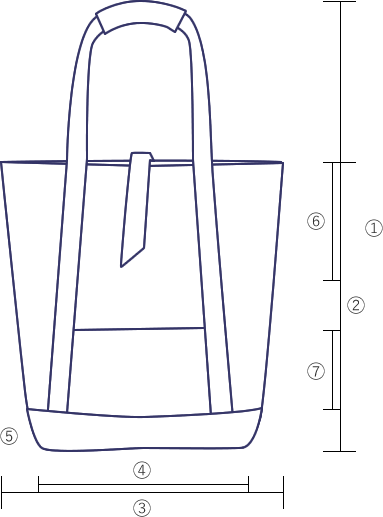 About the Size
| | |
| --- | --- |
| 1)Length including handle | 62cm |
| 2)Length of bag body part | 40cm |
| 3)Width of the mouth of bag | 41cm |
| 4)width of the bottom part | 29cm |
| 5)Gusset part of bag | 17cm |
| 6)Inner pocket | 20cm |
| 7)Outer pocket | 14cm |
Because the goods are handmade, there is a possibility of some errors.
Commitment in-house production
After receiving your order, we will complete carefully to the details.
Here, we will introduce a part of the production.
Cutting the leather.→
We adjust the thickness of leather.→
The thickness of the leather is adjusted and will be sewn wrapping the leather around the side of the inside pocket.
Holes are made as a mark for the bottom parts of the bag.→
It is in a state where the main body and leather are sewn.→
The tape is sewn on the side, and caulk by folding the bottom at the end.
About the Reservations
Thank you for many reservations.
The shipping of the product is scheduled for October.
Fading Sample